Online Safety at Reach Cyber Charter School
At Reach Cyber Charter School, we're committed to providing a learning experience that allows your child to grow and flourish with technology.

That's why we've teamed up with a student safety and digital wellbeing platform that is now protecting the devices your child uses at school, ensuring they stay safe and secure.
Parents of Enrolled Students
We're happy to invite you to join us in this world of digital wellbeing by giving you access to the Qustodio Parents App. This will provide you with full visibility on how your child is using their school devices. Simply create your account to see your personalized dashboard.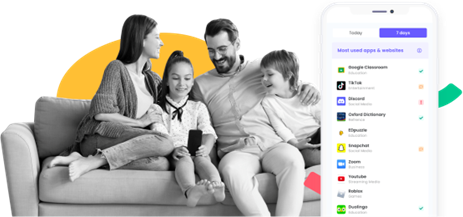 Frequently Asked Questions
You can view your child's activity on their school devices, read digital safety guidance from experts, and remotely switch off the internet using the "Pause" button during hours designated by your district.
No, your child's device is already protected. By setting up your account with Qustodio, you aren't turning protection on or off. Your new account provides you with visibility of your child's activity on their school device.
It is completely free to create your account and get visibility on your child\'s school devices. You can also get visibility on two family devices for free - with the option of adding Premium features.
Qustodio is COPPA compliant and does not share personal data with third parties.